Coat: Lip Service Tailcoat with Faux Fur $174 (thank you kind anon!)




This purple and black ensemble was heavily documented back when they were filming the episode here.




Shoes: ? / Also worn in: Grilled Cheesus, Rumours

To be honest I could have done an entire post about this flawless outfit. So much love for those bronze and white wingtips, the tie bar and spotted pocket square! Plus Colfer's hair is to die for in this scene...




Fox tail: Marcc Silver Foxtail $60 / Also worn in: Duets

I love it when wardrobe put Kurt in a monochromatic outfit, I think this all-brown look works pretty well! You may also recognize the squashed straw hat from those promos a while back. Also I'm guessing that's the same fox tail Kurt's worn previously, unless he has a growing collection of tails...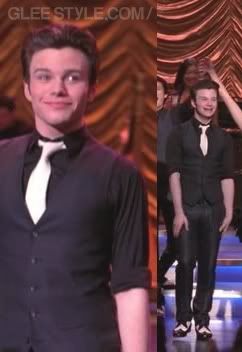 I'll have to check but I'm pretty sure this is the first time I've actually liked what the guys have worn for a competition episode! I think it's the wingtips that do it for me...




Shoes: Adidas x Jeremy Scott 3-Tongue Low sneakers $195 / Also worn in: Duets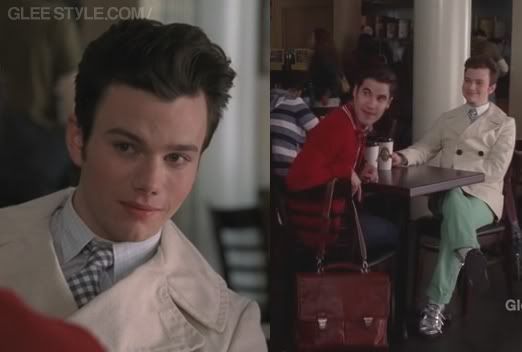 Clearly I'm on a bit of a shoe kick this episode, I'm dying for a pair of those silver fringed sneakers - though I doubt I'd be able to pull them off. Another outfit that seems like it wouldn't work but somehow it does...

Did you have any favourites this episode? I honestly can't pick just one!


+ bonus smitten kitten Blaine!


Cardigan: Ben Sherman Funnel Neck Cardigan £55.00

Had a few people ask about this outfit on tumblr - the shirt I have no clue on but the cardigan was an obvious one! I do hope we get more scenes with Blaine in civilian clothes next season, I dig his preppy style (especially in contrast to Kurt's high fashion insanity).





---
Previous episode: Funeral | Total outfits this episode: 5 | Next episode: TBA