Eeek, sorry this is so late - I've been sick with the flu and had a flaky net connection this past week. But at least it gives me something to do while waiting for the finale to download!

Coming very soon: Kurt's finale post, lots of Rachel catch-up posts, member IDs, season 2 master posts, exciting things!




Shirt: ? / Also worn in: Britney/Brittany
Cardigan & Bow Tie: ? / Also worn in: Mash Up

Simple but fabulous - I love this orange shirt worn with denim skinnys and the knit cardigan and bow tie. I also enjoyed the laughing at Finn haha.




Bag: Marc by Marc Jacobs Army General Canvas Bag $225

Is that... room I spy in those jeans?? Gasp. I'm enjoying the red accents in his striped top, varsity jacket and Marc Jacobs bag...




Vest: Rag & Bone Wing Vest $850
Pants: Comme des Garçons Homme Plus Daily Skull Cropped Trouser $550 / Also worn in: Prom Queen
Shoes: Dr Martens 1460 White $115

It was hard not to get carried away with screencapping this scene! The Rose's Turn of season 2, nothing will top the blue McQueen-on-McQueen for me, but this outfit comes pretty close. I'm obsessing over the shirt with the zipper-edge collar - pure genius!





Of course he had a costume change for his audition piece! I see his jeans are cuffed too, very Blaine Warbler...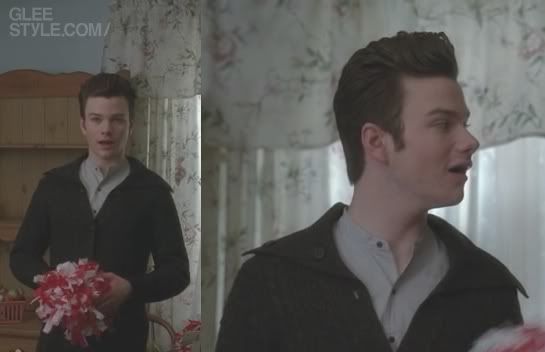 This grey cardigan is totally knee-length.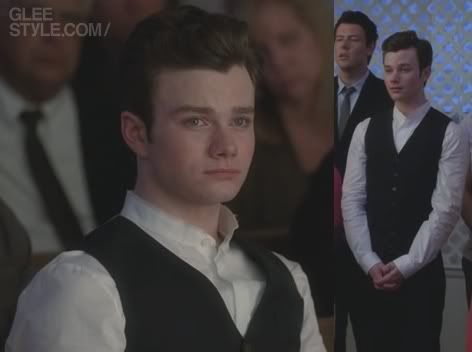 Another outfit that is seemingly simple but upon closer inspection, his mandarin collar shirt has a frayed/unfinished edge.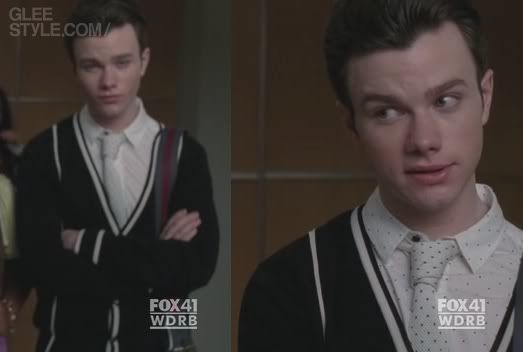 Shirt: ? / Also worn in: Grilled Cheesus
Bag: Marc by Marc Jacobs Army General Canvas Bag $225

The spotted tie with spotted shirt is perfection, and I'm loving that cardigan. What do you reckon for the bottom half, white skinnys? Grey skinnys? Black skinnys? Definitely white Docs though!



---
Previous episode: Prom Queen | Total outfits this episode: 6/7 | Next episode: New York