Just in time for the season 2 finale, let's take a look back at Tina's outfits in the penultimate episode, Funeral. In which Tina spent a lot of time in the background and only had 1 line, but blew our collective minds with her gorgeous voice.


last week's post-episode fashion poll
had Brittany and Kurt come out on top for best dressed at their Junior prom, but whose funeral attire from this week was the most occasion-appropriate? I know, I know - it's not as fun as voting for pretty prom dresses but next week we have hideous show choir costumes to vote for...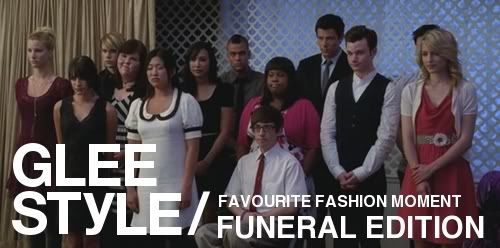 Well
Current Mood:

sleepy
Friday
stuck in my head :D). Only a few outfits to check out this week, so let's get started!
(
It's like getting a thumbs up from Joan and Melissa Rivers
Collapse
)
Total outfits this episode
: 3
What a fun episode (even if i do still have
Now there's only like 2 episodes to go it's the perfect time to introduce a new regular post-episode feature,
Favourite Fashion Moment
! Vote for the character you thought was dressed best for their prom - feel free to use the comments to discuss/explain/picspam your pick!
Here's a little something I decided to put together while waiting for tonight's episode to download/dinner to cook...
Current Mood:

hungry
master list
page is already looking slightly less sad, can't wait to fill it up!
All outfit caps put together by
tourmalet via our wonderful affiliate
avoidmynose, used with permission.
(
Do you see anyone else in here with a plate of "I'm sorry" cookies? I don't, just you.
Collapse
)
Thoughts anyone? It's interesting doing these posts mixed in with her current ones, her wardrobe seemed much simpler back then. A styling choice in the right direction (I definitely covet more of her recent clothes) or do you prefer her preppy plain Jane look?
Total outfits this episode:
7
Slowly but surely, we're continuing our journey through Rachel's wardrobe right from the beginning. The
(
Tina Cohen Chang-Chang
Collapse
)
Total outfits this episode: 5

(and for the record - no fingerless gloves! Guess it's warming up in Lima...)
A little late, but let's check out Tina's stylings in "Rumours"! An episode where Tina was curiously absent from 2 of the group scenes in the choir room, but still managed to dance in the front row in their big performance, share some fondue, accuse Sam of murder and debunk a certain rumour about Asian men...
The Possessionista
's eye for spotting Glee clothes and her sweet insider contacts!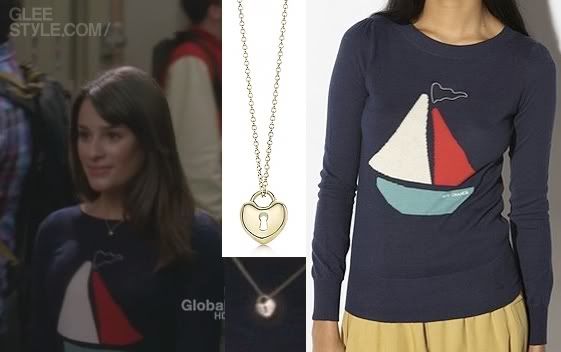 Necklace: Tiffany Locks Heart Lock Pendant mini in silver $100 or gold $300
Top: Urban Outfitters Cooperative Conversational Puff Sleeve Sweater $49.00 (both via The Possessionista)




(

Santana told me to never speak alone with you, cause you would try to steal all my goldCollapse

)
Total outfits worn this episode:
9
Any favourites this episode? Rachel's new necklace is nice and I love the reappearance of the Milly skirt... the swan top is also mega cute! I'd love to have a running tally of how many animal print items she's worn haha.
As always, this post wouldn't be possible without
Current Mood:

pleased
here
. Still
dying
to see photos of Kurt dressed for prom, but it looks like we'll have to wait...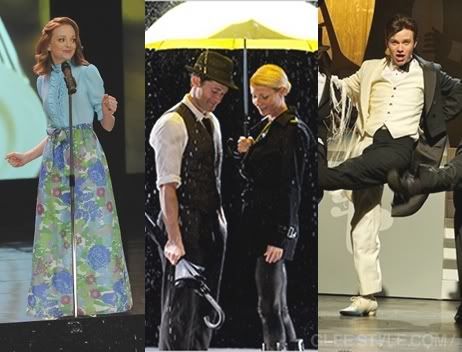 "Afternoon Delight was really fun, the number just killed me and it was fun to put that together - the vintage dresses and the boys in their matching little turquoise tops."
"That was also one of my favourites, Singing In The Rain. We wanted to take the vintage feel of Singing In The Rain on the boys, and then we also wanted a more modern feel for the Rhianna Umbrella song for the girls, so we mixed kind of the tweed pant, vest and knit tie for the boys to make them look kind of 40s looking and then we got shiny trenchcoats, shiny leggings and rain boots for the girls to make it a more modern look."
"I loved Kurt's cream and black tuxedo with the fringe that he wore for his solo for Victor/Victoria."
"For the Britney/Brittany episode, Ryan knew exactly which looks he wanted so we did a lot of research and really dug into the details of her costumes."
"The most fun was the black satin suit, but it had to have a lot of stretch because she had a very strenuous dance that she had to do so we finally ended up making it out of a stretch satin so she could really move."
"I think the hardest was the nude crystal suit just because it had to fit so tightly against her body, like no wrinkles, and be comfortable for her."
"Where Heather's in the red pleather suit with the boys dressed as little hoodlums, that particular scene I was proud of because our in-house tailor Sarah made the costume. She [Heather] just walked into it and zipped up and looked like a million bucks."
"Now that we've got the prom underway today and everyone's finally established I'm having fun. We had about 4 days to throw it all together and I know if it'd all work, but now I see it all and it's fun!"
Just a few costume-y soundbites from the flawless Lou Eyrich - check out the video (with Rachel, Quinn and LZ in their prom dresses)